Do you know how to say: "Happy new year" in the Korean language?
The answer is: "새해 복 많이 받으십시오" (saehae bok mani badeusipsio)
How people celebrate New Year's Eve in Korea?
Almost every city got it's own New Year's ritual. In Seoul, it's ringing of the bell in Jongno. The name of this bell pavilion is "Bosingak". It was constructed in 1396 but destroyed many times. The process starts at midnight in the bell pavilion near the Jonggak Station.

Metro trains on Line 1 do not stop at Jonggak Station on New Year's Eve.
Now let's find out the other places to celebrate New Year's Eve in Seoul!

Everland
Everland amusement park got a huge concert on the new years eve with DJs and fireworks. It's hard to describe, better to go and look your own eyes.
Start: 19:00
Entrance: 23.900* KRW
Coex Mall
Laser show, countdown ceremony, and a free concert with popular singers.
Start: 21:00
Entrance: FREE
Seoul Times Square
A big party with famous DJs like SIMON DOMINIC, GRAY, GIRIBOY, KID MILLI, SIK-K, NAOH, PH-1
Start: 23:00
Entrance: 77.000 KRW
Grand Hyatt Hotel
Show program on the skating rink, with beautiful illumination, fireworks, and stunning city view.
Start: 21:00
Entrance: FREE
Make new year's surprise for your loved ones with Gmoneytrans service!

Lotte World Tower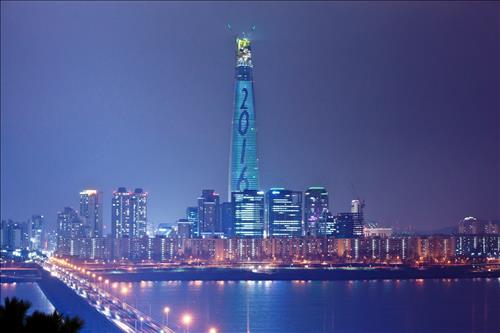 This year will be without fireworks, but you can buy tickets for 2 events – countdown and sunrise on the 118 floor.
Entrance: 80,000 – 120,000 KRW
Dongdaemun Design Plaza
Free light show, countdown, and fireworks on the DDP building.
Start: 23:57
Entrance: FREE
Bosingak Bell-Ringing Ceremony
The main city ceremony with live shows and special guests. This year's special guest is Giant Pengsoo.
Start: 22:30
Entrance: FREE
Seoul Arts Center
New year's show with classical music and fireworks
Start: 21:30
Entrance: 30,000 – 100,000 KRW
---
Contacts:
Official Website: https://www.gmoneytrans.com/
Official VK: https://vk.com/gmoneytrans
Official FB: https://www.facebook.com/gmoneytrans/
Support Centre: 1670-4565
Business Hours of Support Centre:
Every day from 10:00 to 20:00
Business Hours of Branches:
Every day from 10:00 to 20:00
Locations:
Seoul (Dongdaemun) 305-2, Jong-ro, Jongno-gu, Seoul
Ansan 2F, 17, Damunhwa-gil, Danwon-gu, Ansan-si, Gyeonggi-do
Gimhae 105, 321, Bunseong-ro, Gimhae-si, Gyeongsangnam-do